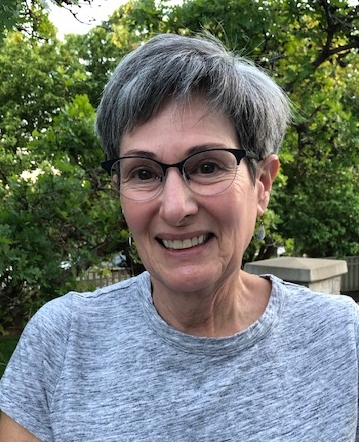 JANICE WARD
July 2022
I am Janice Ward, current board president of Congregation Brith Sholem.  We at CBS aim to provide a welcoming environment to Jews and non-Jews who are exploring Judaism.
"May the door of this synagogue be wide enough to receive all who hunger for love, all who are lonely for friendship.
May the door of this synagogue be narrow enough to shut out pettiness and pride, envy and enmity.
May its threshold be no stumbling block to young or straying feet.
May it be too high to admit complacency, selfishness and harshness.
May this synagogue be, for all who enter, the doorway to a richer, and more meaningful life."
This is a meditation that we frequently read at the beginning of our services that I think succinctly sums up the environment at CBS.  We are small, which affords us the opportunity to get to know each and every person who attends.  We are proud to provide opportunities for growth through adult and children's education. We have services most Friday nights and occasionally on Saturday mornings.  During the pandemic, services were broadcast only on Zoom.  We continue that practice today with hybrid services (in person and on Zoom) for the convenience of our members. 
Unlike the other synagogues in the state, we do not have a permanent rabbi but rather participate in the student rabbi pulpit program through Hebrew Union College-Jewish Institute for Religion in Los Angeles.  We are matched with a student rabbi (usually for two years), and they visit on a monthly basis to lead services and conversion classes, teach children in the religious school, and conduct adult education.  They also are available for one-on-one consultations.  Every student rabbi brings their own perspective, and we are enriched by their differing experiences.
Holidays are celebrated as listed on the website, providing opportunities to grow Jewishly, get to know others, and have fun.  Summer and winter potlucks are also a wonderful way to socialize and share.  There are committees that members can join to participate in projects or ongoing programs. For example, we have been serving dinner monthly at a local homeless shelter as a social action project, and we are always open to new ideas for service projects. In a small congregation, that kind of involvement is not only welcome but crucial. 
There are many ways to participate in synagogue life, and our leadership is responsive to members and those seeking membership, as well as those who would like to engage more deeply.  You may reach out at any time and know that your questions and concerns will be answered.  Contact information is available on the website.