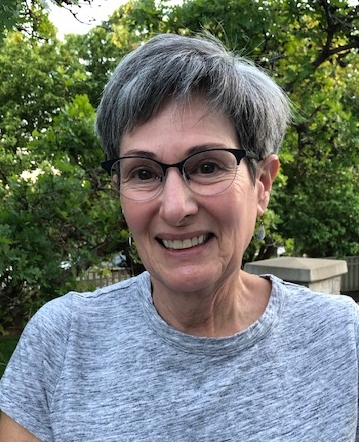 JANICE WARD
As I write this message for this month, I am overwhelmed by the death of Supreme Court Justice Ruth Bader Ginsburg.  I have so much admiration for a woman who gave so much of herself to establishing rights for women which we enjoy today.
When I was a new member of Congregation Brith Sholem in the early 1980's, one of our members, Terry Kaufman, became our first female president of the board.  I still remember how amazed I was, as she returned from the bimah after her president's message, on her first Rosh Hashanah, and she was accosted by an older conservative gentleman from the congregation.  He told her she had no business being the president because she was a woman.   Of course, for any who remember Terry's husband, there were words.  It was a stark reminder of how far we have come as a congregation.  Women account for over half of the board today and we have had many female presidents before me.
We take these rights for granted now, but as late as 1974, married women were denied credit cards in their own names and single women had trouble establishing credit at all.  I could go on and on extolling the virtues of this trailblazer, most of which you already know.  However, I don't think many know that RBG was a lifetime member of Hadassah.  When her own mother died just before her high school graduation, Ginsburg was told, as a woman, she was not welcome to recite Kaddish as part of the minyan.
Ginsburg was the first Jewish woman and only the second woman to sit on the Supreme Court bench.  On her first day back at the court in January 2019 after a hospitalization,  she took time to offer congratulations to the newest members of the US Supreme Court Bar, 14 members from the Hadassah Attorneys Council, as she has almost every year since the council began its Swearing In Program two decades ago.  She also kept in her chambers a painting of the proclamation from Deuteronomy, "Tzedek, tzedek tirdof," meaning, "Justice, justice shall you pursue."
Ginsburg left us during the High Holidays, and it is noteworthy that she considered one of her "big achievements" was getting the court not to sit on the first day of Rosh Hashanah and on Yom Kippur.  She was aided by Justice Stephen Breyer.
In a 2015 interview, Ginsburg said she'd like to be remembered "as someone who used whatever talent she had to do her work to the very best of her ability.  And to help repair tears in her society, to make things a little better through the use of whatever ability she has."  My thoughts are with her family during this challenging time.  May her memory be a blessing and an inspiration for us to continue striving for justice.